Roof Coatings In North Port, Florida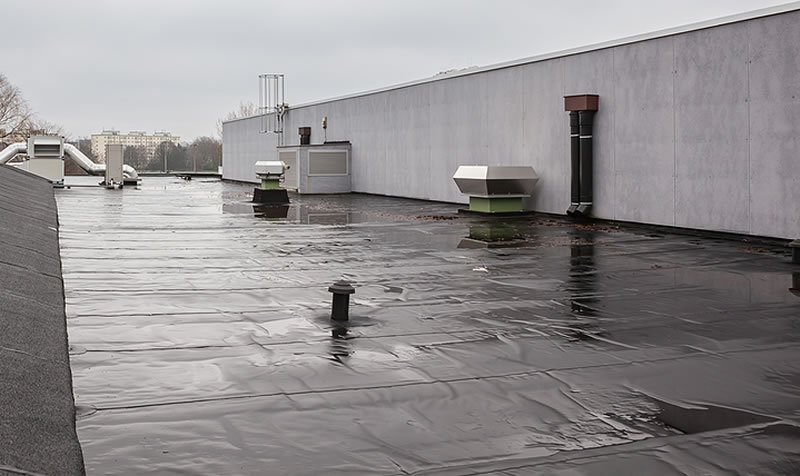 Flat Roof Coatings North Port, Florida
Cold-applied roof coatings are one of the most important ways to protect your business or commercial building from ultraviolet radiation, which over time can wear down a flat roofing membrane causing it to eventually leak.  Roof coatings come in many varieties too: some that reflect UV light away from the surface (very important in our South Florida weather) while others seal places like cracks and tears where water may penetrate.  A properly applied roof coating can help you reduce your energy bills as it reflects away the sunlight and it can restore the look and performance of an otherwise older roof.
Tropical Roofing Services LLC is a licensed, and insured roofing company based out of North Port, Florida and serving the surrounding area.  We specialize in applying both Aluminum coatings and Elastomeric Silicone coatings to flat roofs such as modified bitumen, EPDM rubber roofing, and TPO roofing membranes.
Aluminum Coating Vs Elastomeric Silicone Coating
Both of these coatings can be effective for a flat roof but they do have distinct properties that might help you (or us) decide which is better to use on your flat roof.
Elastomeric coatings are a more recent addition to the market, but they have quickly become an essential component in flat roofing. These compounds come as part of a variety of products and vary widely based on what is needed for specific purposes or types of roofs.  In most cases we use Elastomeric Silicone coatings on our projects because of it's ease of application and durability.
The aluminum coatings are a mixture of oxidized asphalt, solvent, and an aluminum paste. Some coatings can also come with reinforcing fibers. Aluminum has the most effective ability at reflecting ultraviolet radiation which prevents premature aging by reducing temperatures on rooftops in addition to reducing building cooling loads that are needed for roofs in South Florida.
Both types of coatings provide aged flat roof membranes with a protective, waterproof barrier that stops leaks and improves performance.  In addition white roof coatings can reflect 80-90% of the suns UV rays which keeps the roof cool, which reduces loads on HVAC systems during the hottest months of the year and cut your interior cooling costs by as much as 20%.
Flat Roofs That Can Be Coated
Modified bitumen or torch on roofing
EPDM rubber roofing membranes
TPO and PVC roofing membranes
Why Choose Tropical Roofing Services LLC For Your Flat Roof Coatings Services
We realize that you've got many choices when it comes to choosing a roofing contractor in our service area.  We want you to know we understand and appreciate the commitment you are about to make to your facility and we take it very seriously. When you choose Tropical Roofing Services LLC you're choosing a partner in making your facility a better place.
If you'd like to receive an estimate to apply a roof coating to your flat roof please give us a call (941) 312-1337 or fill out our contact form and we'll get right back to you.