Torch Down Roof Replacement In North Port, Florida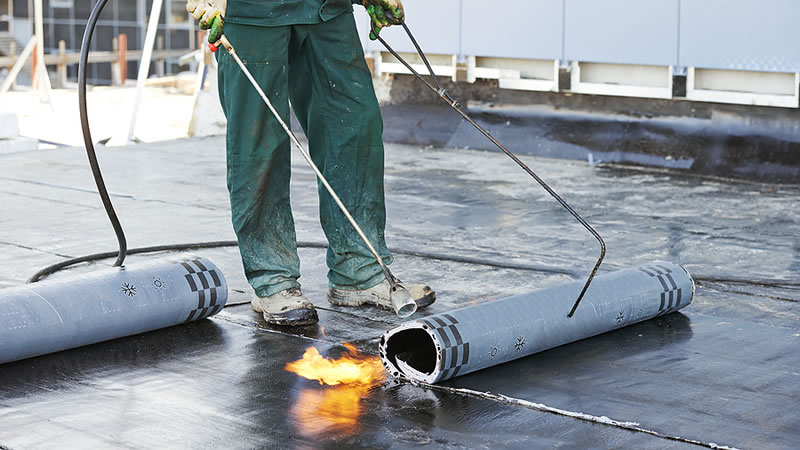 Torch Down Roofing System Installations
Torch down roofing also known as "torch on roofing" or "modified bitumen roofing" is a very fitting name because this type of roofing requires an open-flame propane torch to heat the material so it adheres to the surface.  Modified bitumen comes in sheets that can be rolled out onto your roof.  Using a hand-held torch we then heat the material so that the seams melt together and form a waterproof seal.  This is one of the best roofing systems for homes or buildings with a very low sloping or nearly flat roof.
Tropical Roofing Services LLC is a full service roofing contractor based in Fort Lauderdale, Florida and serving the surrounding area.  We specialize in the installation of modified bitumen/torch down roofing systems for large low-slope or flat roofs.
Torch Down Roofing Services We Offer:
Modified bitumen roof repair
Modified bitumen roof replacement
Torch down roofing replacement
New torch down roofing installations
Torch down roofing leak detection and repair
Why Choose Tropical Roofing Services LLC For Your Torch Down Roofing Project?
Tropical Roofing Services LLC is a locally owned company based out of Fort Lauderdale, Florida.  We are licensed, and insured, so you can feel confident having us work on your home or building.  We specialize in torch down and modified bitumen roofing systems and we are very knowledgeable about the process.
You can count on great service, value based pricing, a top-notch installation that will be covered by the full manufacturers warranty, and a beautiful looking new roof.
We understand that you have plenty of choices when it comes to choosing a torch down roofing contractor. We just want you to know that when you choose Tropical Roofing Services LLC to complete your roofing project on your home or building, you're hiring the best!
If you'd like to schedule your torch down roofing estimate please give us a call at (954) 599-1785 or fill out our contact form and we'll get right back to you.