Tile Roof Installation In North Port, Florida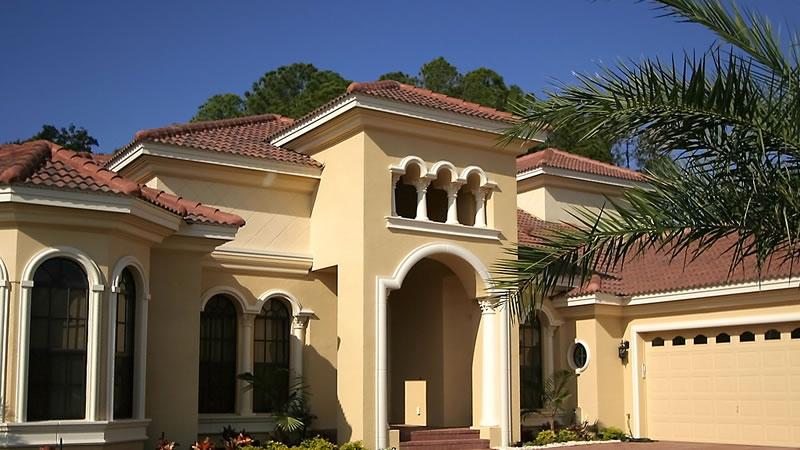 Tile Roof Replacement and Installation North Port, Florida
If you are looking for a licensed and experienced roofing contractor that specializes in tile roofing, look no more.  Tropical Roofing Services LLC specializes in tile roofing including tile roof replacement and new tile roofing installation in North Port, Florida and surrounding areas.
There Are Many Different Types & Styles Of Roofing Tiles
If you want to customize your home and give it a unique or different look, you can choose from several roofing tile styles.  Depending on the material they can vary in weight and how durable they are, the cost, and the installation process.
One popular type of roofing tile is natural slate roofing tiles. They are made of natural stone that gives them a very unique and beautiful appearance.  Slate tiles are heavy, and when installing them your roof decking will need to be reinforced because of all that extra weight.
Another popular type of roofing tile is metal roofing tiles. Metals tiles are mainly made up of aluminum and steel.  They come in different patterns that you can choose to match the aesthetics of your home exterior.
Concrete tiles are another common type of roofing tile. They used to be made by hand, but today, they are made using modern production methods and they also come in a variety of styles and colors.
Composite roofing tiles are roofing tiles made of natural materials combined with artificial or synthetic materials. These roofing tiles have many advantages because they generally blend the best mix of strength, durability, and are often lighter weight and they also come in different colors and patterns.
Another common type of roofing tile in Florida is clay roofing tiles.  They come in various colors and styles as well so your home can be unique or blend in with the other roofs in your neighborhood.  The downside to clay tiles is that they are heavy and somewhat fragile as they are easy to break or shatter if dropped or from impact damage.
What Are The Benefits Of Tile Roofing?
Tile roofing has many benefits for Fort Lauderdale homeowners.  One of the main benefits of using roofing tiles is durability and sustainability. Concrete and clay roofing tiles have insulation properties that help them regulate the temperature in your home and they can reflect the heat away making your air conditioning system more efficient and effective.
Tile roofing is also fire resistant. If fire is a concern for you then you can have the peace of mind knowing that your tile roof is extremely fire resistant.
Why Choose Tropical Roofing Services LLC For Tile Roofing Installations?
We know you have many contractors to choose from in the Fort Lauderdale area and we just want you to know why we feel we're one of your best choices.
At Tropical Roofing Services LLC we have many years of experience installing and replacing tile roofing materials.  Our installers are qualified and experienced and as a professional contractor we are licensed and properly insured to protect your property.  We take every precaution we can to make minimal impact on your property, leaving no trace of our presence aside from your beautiful, new, tile roof.
Our pricing is right in line with our competitors and we always strive for an amazing customer experience and we'll always provide the most value.
If you'd like to schedule an estimate or consultation for a tile roof on your home please call (941) 312-1337 or fill out our online contact form and we'll get right back to you.