Roofing Replacement and Installation North Port, Florida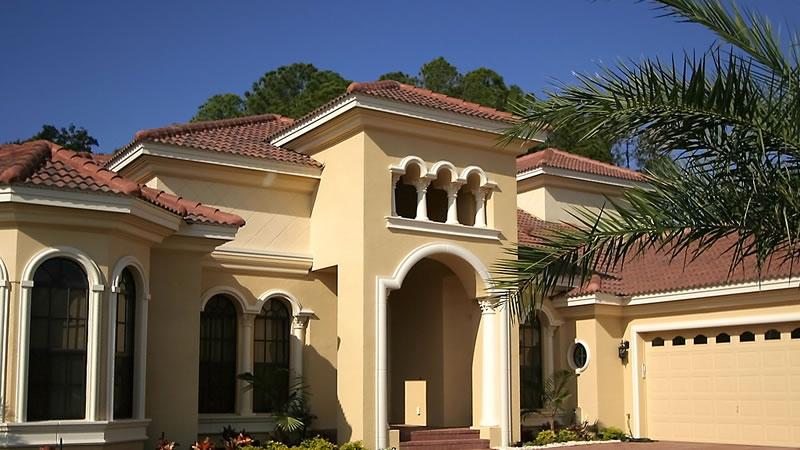 Roof Replacement Services in North Port, Florida
We specialize in installing many types of roofing systems and Roofing Replacements.
Roof Replacement is something most homeowners will only go through once or twice in the life of their home.  However, in Florida we have intense east coast weather systems including heavy rain, and hurricane force winds.  These can quickly destroy any type of roof.
These issues become much more prevalent if you have an older home with older roofing material that isn't up to the same standards of the roofing materials we are using today.  When your new roof is installed right it can last another 25-50 years.  The biggest challenge when replacing your roof is WHO you are going to hire.
Tropical Roofing Services LLC is a licensed, and insured roofing company based out of Fort Lauderdale, Florida and serving the surrounding area.  We specialize in the installation and repair of several different types of roofing materials.  We can repair or replace asphalt shingles, architectural shingles, flat roofing, torch down roofing, and tile roofing for both residential and commercial structures.
Why Do You Need A New Roof?
Have you just purchased a home and the roof is in rough shape?
Have you discovered roof leaks that are damaging your home?
Do you want to upgrade to a more durable, longer lasting material?
Do you just want your roof installed properly after a previous failed installation?
Asphalt Shingles –  Tropical Roofing Services LLC installs asphalt shingles from leading manufacturers such as Owens Corning, and GAF.  We use materials that come with an unbeatable warranty so you get the most value out of your roof replacement.  Asphalt shingle roofing is easily the most common type of roofing material on American homes, it's economical and there are many color and style options to choose from.
Architectural Shingles – Tropical Roofing Services LLC sells and installs designer and luxury roofing systems from quality manufacturers such as Owens Corning, Atlas, and GAF.  Designer Shingles are manufactured to a higher standard and they also come in many different patterns and designs.  If you want a stylish roofing material on your home, that is more durable than a traditional asphalt shingle, then you want designer or architectural shingles.
Torch Down Roofing - The perfect solution for very low slope or flat roofs.  With torch down roofing or "modified bitumen" we can provide affordable roofing services for larger buildings like warehouses and other large commercial buildings with a flat or low slope roof.
EPDM Rubber Roofing - EPDM rubber roofs are made from recycled materials and are low-cost to install. They're also durable and can last up to 50 years with proper maintenance. EPDM rubber roofing (ethylene propylene diene monomer rubber) is a type of synthetic rubber with a wide range of roofing applications especially suited for flat roofs.  EPDM has other names too and you might know it by just rubber roofing, or rolled rubber roofing.
TPO Membrane Roofing - TPO roofing or Thermoplastic Polyolefin is a very durable, single-ply roofing membrane that has grown from just having a tiny market share to quickly becoming one of the most sought after flat roofing systems on the market for both flat roofed homes or commercial buildings.  TPO makes up more than 50% of all single-ply flat roofing materials currently sold on the market.  It's a game changer for flat roofs and it's not going away anytime soon.
Roofing Repairs - Have you discovered the your roof is leaking?  Do you have shingles that have torn or blown off in a wind storm?  Missing roof tiles?  A leak you just can't seem to locate?  We can repair all kinds of roof damage and stop the leaks for good.
Roofing Replacement Services That We Offer:
Roof Inspections
Complete Roof Replacement
With Every Roof Replacement We Offer:
Complete Tear Off & Disposal
Detailed Roof Decking Inspection
Water Shield
Proper Drip Edge Installation
Proper Roof Flashing
Quality Roofing Materials
Roofing Inspections
Before every roofing project we start with a thorough inspection of your roofing system.  We inspect your current shingles, what type they are, how many layers there are, and we also inspect all of your flashing, and soffits.  We're looking for any signs of water intrusion or trouble areas that we'll need to pay careful attention to when installing your new roof.
Roof Tear Off & Disposal
Tearing off of your old shingles and disposal will be included in our roof replacement estimate.  We will load all of the old shingles into a dumping trailer or a large dumpster for proper disposal.  We also go over your gutters and your lawn/garden with large magnets that will collect any dropped roofing nails that were pulled out with the old shingles.  Cleanliness and safety are two of our top priorities.  Once your old shingles are off we'll be able to do an inspection of your roof decking (or sheathing as some call it), looking for any signs of rot.  We can replace rotten roof decking prior to the installation of a new water barrier and your roofing material.
Roof Flashing & Ventilation
In some cases roof flashing can be reused but most of the time we rebuild the flashing from scratch to ensure the project is completed properly and meets all manufacturers specifics for the roofing shingles you've chosen.  Proper flashing will be installed around chimneys, dormers, roof valleys, and anywhere else two surfaces meeting together will require proper flashing.  We also check all of your roof vents and we can also install new roof vents and ridge vents if your roof could benefit from additional ventilation.
Why Choose Tropical Roofing Services LLC For Your Roof Replacement Services
We realize that you've got many choices when it comes to choosing a roofing contractor in our service area.  We want you to know we understand and appreciate the commitment you are about to make to your home and we take it very seriously. When you choose Tropical Roofing Services LLC you're choosing a partner in making your home a better place. We guarantee it!
If you'd like to receive an estimate to install, replace, or repair your roof please give us a call (941) 312-1337 or fill out our contact form and we'll get right back to you.