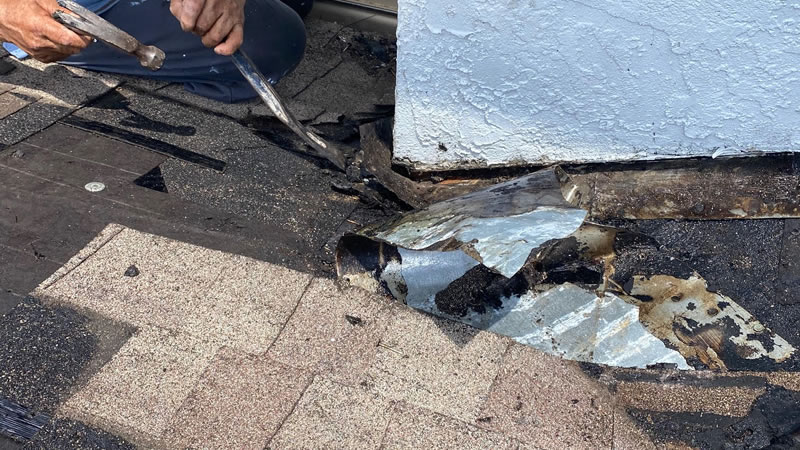 Does Your Asphalt Shingle Roof Need Repair Or Replacement?
Asphalt shingle roofing is a common roofing material used for residential homes in our area of south Florida.  It's typically an affordable, long-lasting roofing material, but it's not impervious to damage from the intense weather we experience here or even from problems arising from a poor installation.  If you have an asphalt shingle roof in need of repairs you've come to the right place!
Tropical Roofing Services LLC is a licensed, and insured roofing company based out of North Port, Florida and serving the surrounding area including all of Lee and Charlotte County.  We specialize in asphalt shingle roof repair and total replacement projects.  We can breathe new life into your old asphalt shingle roof and extend it's service life saving you significant amounts of money over a total roof replacement.
Can Your Asphalt Shingle Roof Be Repaired?
In many instances, Yes!  we can repair your asphalt shingle roof but there are other situations that can make repairs difficult or a roof so damaged that it's just not suitable for a repair and a total replacement might be necessary.  Here are the factors we need to consider when repairing a shingle roofing system:
#1.   Shingle age and condition:  Asphalt roofing shingles generally have a lifespan of 25-50 years depending on the particular make and type of shingle.  Their service life can be drastically reduced if they are not installed correctly or if they have suffered damage in one of our severe weather systems.  If the shingles have been damaged by flying debris or they have been ripped up and torn off due to high winds it's quite possible for us to repair these troubled areas.  When the shingle roof is very old, or much of the surface has been damaged we'd probably recommend a replacement over a repair.
#2.   Roof decking age and condition:  The roof decking is what lies on top of the framing of your house and provides a platform for the shingles to lie on and be fastened too.  If you have had roofing issues for some time it's a possibility that you might have rotten or damaged roof decking too.  Obvious signs of roof decking issues are water damage visible from your attic or sunken or warped sections of your roof.  Roof decking is something that can be replaced and we can install and tie-in new shingles as well.  This is a good time to make sure that your roof has adequate ventilation in place because it's very easy for us to install during this process.
#3.   Roof underlayment condition:  Your asphalt shingle roof will have an underlayment (usually tar or felt paper) that is an extra barrier of protection against water intrusion.  If your underlayment is the issue with your roof it's not an easy fix and generally requires removal of the shingles and then we need to reinstall a new underlayment and then new shingles as the old shingles are usually destroyed during the removal process.
#4.   Roof flashing condition:  Roof flashing protects your vulnerable areas of your roof such as roofing valleys, around dormers or skylights and around any protrusions in the roof such as vents.  It's not uncommon for flashing to be damaged in a storm or blown entirely off the roof.  If it's caught early we can generally just replace the flashing and you're good to go.  If it's not caught early there could be significant water damage that will need to be assessed and repaired.
Why Choose Tropical Roofing Services LLC For Your Asphalt Shingle Roof Repair Services?
We realize that you've got many choices when it comes to choosing a roofing contractor in our service area.  We want you to know we understand and appreciate the commitment you are about to make to your home and we take it very seriously. When you choose Tropical Roofing Services LLC you're choosing a partner in making your home a better place. We guarantee it!
If you'd like to receive an estimate to inspect, replace, or repair your asphalt shingle roofing system please give us a call (941) 312-1337 or fill out our contact form and we'll get right back to you.